21 or 30~ days
Quality Escorted Experiential Tours & Field-studies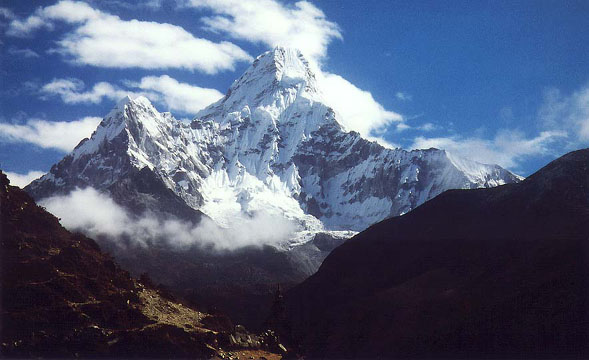 Everest Trek Draft- Itinerary & Options
Key Information
Tour Duration: 21 or 30 days Options
Specialty & Options: Traditional Healing Tour&Study and Everest Trekking
Season: any
Airfare Included: Optional (with or without international flights, please see Terms&Conditions)
Tour Customizable: Yes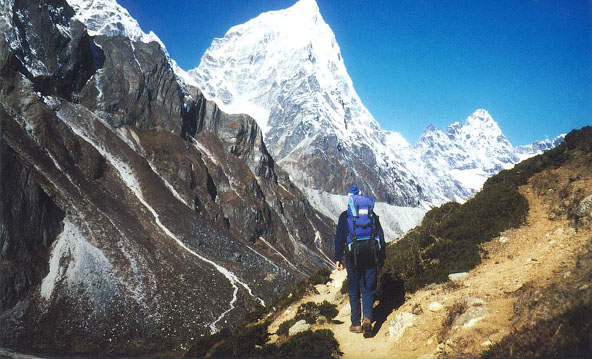 HIGHLIGHTS
This Everest trek is comparatively easy one compared to some other treks. The trek of a 12/13 days duration (from KTM to KTM) will take you up high along trails to Tengboche Monastery (3850m). Although, it is a short trek, it nonetheless offers a very dramatic landscape giving, you a superb view of the world's highest peaks, with Mt. Everest, Mt. Lhotse, Mt. Thamserku, Mt. Amadablam, and other many other snow peaks..

After a 30 minutes scenic flight from Kathmandu to Lukla, the trek goes up to Namche Bazaar, Tyangboche (famous for its monastery), and Khumjung village which offers a very nice settlement of Sherpas people.

This trek definitely is the greatest introduction to the Sherpa country, their s culture along with fine people. You really find that this area is a very popular destination for first time trekkers in Nepal. The trek is best suited especially for those people who haven't enough time for longer treks into the high mountains.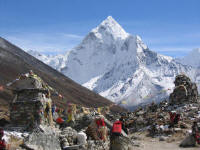 STUDY & TOUR :
Part One (5 Days)

Day 01: at your arrival to Tribhuwan International Airport (TIA) KTM, you will be met by RWL at Arrival Airport (after immigration & customs) and transfered to our Padma (***) hotel at Bauddha Stupa. Evening Diner in front of the Stupa and Overnight stay at hotel Padma (***). B&B.

Day 02: Rest and after late breakfast first visit of he Bauddha Stupa area, roadmap, main ressources. Visit of main monasteries. Meetings with friends and debriefing of envisioned Study&Tour last information. Evening meal in Bauddha Stupa. Overnight at hotel Padma (***). B&B.
Day 03: Full day sightseeing tour of Kathmandu valley and visit of the Travel Agency legally taking charge of Everest Trek (insurance, trek permit, certificate, health issues, itinerary, guide, porters, etc...). Followed by a first tour of the city including : the Canada Embassy, Pashupatinath Temples, Swayambhu, and Kathmandu durbar square.
Day 04: Securing trek issues debriefing (immigration office permits) Special activity chosen by group for the day, ie: Visit of Parping, Out of KTM Valley. Or free-time for various preparations for trek. Overnight at hotel. B&B.

Day 05: Final check-list for trek. Transfer from Hotel Padma for those not chosing option (***) but chosing Guesthouse (**) options (5GH). After logistics and Guesthouse transfer, go to activity linked to Dharma?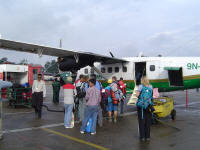 Part Two (13 Days)
TREK OPTION
Day 06 (TREK Day 01): Today early in the morning, we drive about 15 minutes to Tribhuwan Airport International. After 30 minutes flight to Lukla (2804 mtrs.), we begin our trek to Phakding (2610 mtrs.). Overnight at Guest House. B.L.D. (trek approx. 3 hrs)

Day 07 (TREK Day 02): Trek to Namche. Stay at lodge. (approx. 6 hrs)

Day 08 (TREK Day 03): Rest day in Namche Bazaar. [On this day group may hike to Khunde].

Day 09 (TREK Day 04): Trek to Tengboche. Stay at lodge. (approx. 6 hrs)

Day 10 (TREK Day 05): Trek to Dingboche. Stay at lodge. (approx. 5 hrs)

Day 11 (TREK Day 06): Rest day at Dingboche or explore to Chhukung. Stay at lodge.

Day 12 (TREK DAy 07): Trek to Lobuche. Stay at lodge. (approx. 4 ½ hrs)

Day 13 (TREK Day 08): Trek to Gorakshep (2 hrs 45 min). After lunch day excursion to Everest Base camp (total 6 hrs). Stay at lodge.

Day 14 (TREK Day 09): Early in the morning leave for Kala pattar from Gorakshep (return journey total 3 hrs). After breakfast leave Gorakshep for Pheriche (5 hrs). Stay at lodge.

Day 15 (TREK Day 10): Trek to Tengboche. Stay at lodge. (approx. 3 hrs)

Day 16 (TREK Day 11): Trek to Jorshalle or Monzo. Stay at lodge. (approx. 4 hrs.)

Day 17 (TREK Day 12): Trek to Lukla. Stay at lodge. (approx. 4 ½ hrs)

Day 18 (TREK Day 13): Fly back to Kathmandu.

Please check the above program and let us know whether it is acceptable to you or not.
Note: B.B> Bed and Breakfast, B.L.D> Breakfast, Lunch and Dinner.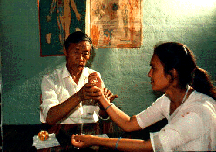 TRADITIONAL HEALING OPTION (Flexible Options)
Day 06: (morning) First meeting with Ayurvedic and Shamanistic healers.
Presentation of the Boddhanath PHC Clinic (Dr. Tsering / MBBS), Amchi Jampa
Tibetan Clinic, Kunphen Tibetan Clinic and local Tibetan Medicine factory.
(afternoon) Introduction to Dr. R. T. Gartoulla Ethnomedicine, Paramedic PHC Training at the MIHS
Day 07: (morning) First meeting with Father Robins at St- Xavier's Social Services KTM.
Presentation of the St- Xavier's Campus and Social Services structures, including Freedom Center Drug- Abuse Detoxification and Rehabilitation Center. (afternoon) Visit to Kunphen Tibetan Medical Center (Amchi Tashe Pedon and Amchi Kunzang Dorje), Chettrapati Thamel.
Day 08: Early morning drive\out of the valley to Pharping Caves and Dashinkhali, visit of Tibetan Tsa-rLung Healing Meditation Centers, including introduction to the practice of embodiment of entities, gurus and protectors for healing purpose, visit to selected Pharping Gompas (monasteries) and interview with a high lama, introduction talk on the relations between Tibetan Buddhism Philosophy and Tibetan Traditional Medicines (all day),
Day 09: Visit to the Freedom Center Drug- Abuse Detoxification and Rehabilitation Center. (all day). Discussions with Fr. Robins SJ, Director Rajendra Shestra, other staff and clients (Group therapy).
Day 10: Free, or Morning drive to Vajrayogini Powerplace. Meetings with Healers & Shamans (Furba). (all day)
Day 11: Drive around Kathmandu valley historical places: Swayambunath Stupa and the surrounding monasteries, amongst which the Monkey Temples and the Bon-Po Gompa. Alternative options also.
(afternoon) The heart of ancient Kathmandu, the old Royal Palace, Kumari Chowk, Patan
and Durbar Square. Visit Thangka painters and handicraft artists.
Day 12: (morning) Tibetan Healing Paradigm / (afternoon) Shamanistic Healing Practices.

Day 13: (morning) Concepts Tsa-rLung Healing / (afternoon) Shamanic Ayurvedic Medicines.

Day 15: Free, or visit of Thamel and other Tourists Shopping locations.
Day 16: (morning) Diagnosis methods in Tibetan Medicine / (afternoon) idem Ayurvedic Medicinal Herbs.
Day 16: (morning) Urine analysis / Pulse reading / Causes of chronic diseases / (afternoon free)

Day 17:(morning) Comparative efficacy Tibetan system vs. Allopathic conference / Workshop

Day 18: Day Free, or Excursion to Bhaktapur, Namo Boddha or Vajra Yogini (Sanghu), as options left.
Part Three (Remaining Days)

Day 19: Conclusion of Trek / Presentation of remaining activity options / afternoon free,
Day 20: Traditional Healing Practices Workshop / or options / afternoon free,
Day 21: OPTION 21 DAYS > Transfer to Airport , Fly back to Europe or USA,
Day 21: OPTION 30 DAYS > Excursion out of the Valley for Medicinal Herbs, or options (all day),
Day 22: Diagnosis methods in Tibetan Medicine / Moxibustion and Acupuncture, or see options,
Day 23: Urine analysis / Pulse reading / Causes of chronic diseases / afternoon free,
Day 24: Conference on the comparative efficacy Tibetan , Ayurvedic and Allopathic systems,
Day 25: Tsa-rLung Healing Yoga Workshop / afternoon free,
Day 26: Tsa-rLung Healing Yoga Workshop / afternoon free,
Day 27: see Options decided or free,
Day 28: Traditional Shamanic Healing Practices Workshop / or options / afternoon free,
Day 29: see Options decided or free,
Day 30: OPTION 30 DAYS > Transfer to Airport , Fly back to Europe or USA,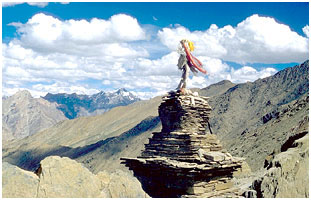 Study Abroad Program in Nepal, Tibet and India
General Terms & Conditions

21 Days Per Person Price (flight from LHR is included): 2050 Euros, equiv: 2700 US Dollar (USD)
30 Days Per Person Price (flight from LHR is included): 2300 Euros, equiv: 3000 US Dollar (USD)
21 Days Per Person Price (international flight not included): 1300 Euros, equiv: 1700 US Dollar (USD)
30 Days Per Person Price (international flight not included): 1550 Euros, equiv: 2020 US Dollar (USD)
(Option: Single room or Hotel Padma at Stupa (***) : please add 10 Euros per day per person)
Foreign Currency Rate January31, 2007: 1,000Euros = 1,293 USD
Our conditions include:
• Accommodation in Guesthouse (**/***): double room & half-board, including 2 meals a day,
(breakfast and dinner) and lunch-box for day-trips on scheduled excursions.
• All long-distance drives (mini-bus) and air transportation (return-flights).
including drop to and pick up from airport, sightseeing tours and trekking spots
• All excursions & entrance fees in seminars, monasteries or museums.
• Group supervision, translation & experiential guidance.
• Airport / Hotel / Airport Arrival/Departure pick up & transfer by car / Van / Bus.
• Accommodation with breakfast at hotel(***) or Guesthouse(***) in Kathmandu as per above program.
• Kathmandu City Tours as per above program, inclusive of all entry permits, tour guide, car / van.
• Half-Board Meals (breakfast and dinner) with Tea & coffee during the trek. Lunches are personal choices.
• 7 nights Tea House accommodation in the mountain.
• 1 highly experienced, helpful and friendly Guide, porters (1 porter for each 2 people), their food, accommodation, salary, insurance, equipments.
• Round Trip flight to & from Lukla & Domestic airport taxes in Kathmandu and Lukla.
• Sagarmatha National Park permit.
• Government taxes.
• Office Service charge.

Our conditions do not include:
• Lunch whilst in Kathmandu - allow US$ 15 - US$ 20 per day.
• Travel insurance, please ask us for more detailed information regarding the travel insurance.
• Depending upon the Options chosen, your International airfare to and from Nepal (dep. Canada)
• Nepal entry visa fee US$ 30 (duration 60 days from date of issue) - you may get visa upon arrival at Tribhuvan International Airport - Kathmandu.
• Disembarkation Airport Tax in Nepal - approx. US$ 24.
• Items of a personal nature such as alcoholic drinks, cold drinks, laundry.
• Trekking Equipments.
• Tips for trekking staffs, driver etc...
• Loss of or damage to luggage or personal property.
• Medical expenses, personal insurance, rescue, tips.
• Meals other than specified . Alcohol and other hard drinks ...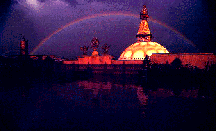 How to sign up !
How to Sign Up:
Print out and completely fill in and sign the Registration Form and send it along
with your initial deposit . We will confirm your reservation and send you back a
trip invoice for the balance due. You will also receive a packet containing information
important for you preparation: a detailed itinerary for your particular trip, medical and immunization information, travel insurance information, background on the region's
medical and cultural systems as well as a further reading list, a list of recommended
clothing and equipment, and other things to do prior to departure.

Documents:
You need a passport valid for the duration of 6 months covering your stay.
Visa for India must be taken in your country.
Although, visa for Nepal can be obtained upon arrival at Kathmandu (KTM)
airport immigration (TIA) and that for India at the Indian Embassy in KTM city,
it is more convenient to have it beforehand.
Tourist visa are presently at 30USD first arrival, valid 60days.
On the other hand you must get trekking permits and visa for Tibet in Kathmandu.

Land Costs & Air Travel Costs:
In most cases we will inform you of land & air travel options. We prefer you work
with our travel agent affiliates, who are familiar with travel in Asia. This is both
for your convenience and in most cases provides the best price.
The travel agent affiliate can also arrange trip extensions including travel to other
parts of Asia and provide you with information on purchasing medical, rapatriation
and/or trip insurance to include cancellation and interruption insurance.

Group Size:
The tour land costs are based on a minimum number of persons (5) and maximum (15).
However if the group is smaller than the minimum (5) we will still run the tour,
subject to additional charges depending the type of tour.
We can also arrange a private tour or tours tailored for specific clients,
such as anthropologist, physicians, psychologist, researcher interested in
various expertise.

Accommodations:
Accommodations are double-occupancy rooms in hotels, resorts, tea-houses,
and tents unless otherwise noted in the flier.
Trip prices reflect in part the level of accommodations (***: good - superior),
but all lodging sites have been personally checked for service and cleanliness,
the availability of on-site dinning, pleasant surrounds -- except of course the
tent sites for which areas with spectacular mountain vistas have been chosen.
If you are traveling alone and wish a roommate, we will attempt to match you
with one; if not, the payment of a single supplement is required.

Payment Schedule
| | |
| --- | --- |
| Total costs: | $(as noted in above tables, trip notes or flier) for double occupancy |
| Single supplement: | $ (additional) |
| Extra day in Bangkok: | $ (additional) |
| Initial deposit: | Euros 500.00 (with application) |
| Second deposit: | Euros 500.00 (due 90 days prior unless otherwise noted) |
| Final payment: | Balance of trip cost due 60 days prior to departure |
| Late bookings: | Tour reservations made 30 days or less prior to departure as subject to a surcharge of Euros75 to cover costs of extra communications and other surcharges passed on by the travel companies. |
It may be necessary to adjust prices up to 30 days before departure due to changes
in group size (see above) or rooming status. However your final payment
(100% of trip cost) is due 60 days prior to departure unless otherwise
stated in a flier. If late, a 2% of land costs penalty will be added.


Universities, NGOs , Education and Health Units:
We are happy to discuss and propose special focus trips with special conditions.

Cancellations and Refunds:
If you cancel before departure, money will be returned less cancellation fees (a set fee or percentage of land costs) as noted below. In addition to these penalties, any unrecoverable expenses and/or cancellation charges imposed by the airlines, travel agent affiliate, tour operators or as a result of you own travel arrangements, are the responsibility of the participants.

Cancellation Fees:

| Days prior to departure | Fee |
| --- | --- |
| 90 or more | Euros 100 |
| 60-89 | 25% of land cost |
| 30-59 | 50% of land cost |
| 15-29 | 75% of land cost |
| 0-14 & no show | 100% of land cost |
Cancellation fees are effective from the date of receipt of a written notification
and based on departure dates stated in the fliers or trip notes.
After departure from the base city we cannot give refunds for unused: hotel rooms,
air or land travel, trekking days or other arrangements included in the land costs.
The client is responsible for all additional payments due at the time of cancellation.


Insurance:
If a trip is delayed because of weather conditions, landslides (frequent during monsoon),
cancelled or delayed flights, other transportation delays, sickness or any other situations
that we can not immediately solve, the cost of that delay is your responsibility.
We strongly recommend that you purchase a short term trip and health insurance
which includes medical rapatriation , cancellation and interruption insurance,
as discussed below.




Health Requirement !
To fully enjoy the tours planned , good physical and mental health is important. All trips
include some walking -- especially during the treks. By signing the reservation forms and including a deposit, the tour participant certifies that she/he does not have any health
condition that would create a hazard for herself/himself or other participants.
Participants may be required to furnish a physician's statement of good heath and/or
additional medical information. Once a trip has been confirmed, the regular refund
schedule is in effect should a medical problem arise prior to the departure date.

Medical insurance:
Every traveler should have a personal medical insurance which will cover you on
the entire trip and proof of such coverage may be requested. In some cases we may
also require participants to furnish a doctor's statement of good health.
Once a trip has been confirmed, medical problems will not be considered as an
exception to the cancellation terms. While we make every effort to enable you
to have a safe and enjoyable trip on schedule, the insurance will give you
added peace of mind at a reasonable cost.

Tour Operator in Nepal:
Keltic Trilogy / Cairn tours are arranged in association with Heritage Tours and Travel
(Pvt Ltd Nepal), an experienced and well established local tour company based in
Kathmandu (Kantipath). In addition, we have selected tour operators and
travel agencies duly registered in Belgium, UK and USA, which are familiar
with all aspects of the tour, and deal with efficacy with the airline bookings,
tickets, and insurance in the country of your departure.


VISAS !
Nepal :
You can get a visa easily while landing at Kathmandu International Airport (TIA),
or at your city nearest Nepalese Consulate or Embassy. Current Tourist
Visa fees at TIA/KTM are 30 USD on arrival on first entry, valid 60 Days.
Please get double Entry Visa for Nepal when you apply for Nepalese Visa
at the Consulate or Nepalese Embassy if you intend to visit India or Tibet.

India (Varanasi) :
You must take your Entry Visa to India, whether from your country's India Embassy
or from the India Embassy in KTM (Lazimpat). A short stay visa can be obtained
in 24H00 as a Transit Visa. A longer period require a few days file handling
at the Embassy (TELEX) in KTM.

Sign-Up Early To Avoid Disappointment:
Limited Enrollment !

I hope you will find above to be in order. However, if you have any
further comment or inquiry, please do not hesitate to let us know. RWL