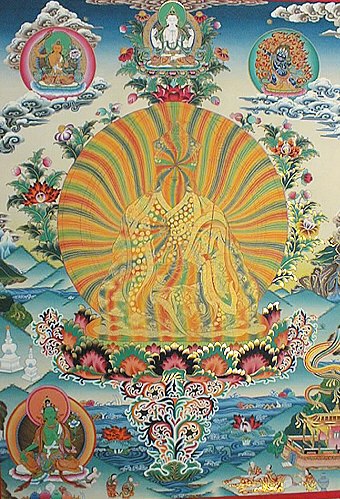 Guru Rimpoche Rainbow Body
Tsa-Lung Energy Body Healing

Tibetan Traditional Healing "Tsa-Lung" technics, are literally
found in the scriptures dealing with 'channels-wind' and are
also called 'hand healing', they being special energy projection /
visualization process for energy healing preserved in Tibetan
Medicine knowledge.
Historically, as per the Tibetan tradition, it is said that it has been
the source from which the technics of Reiki and Acupuncture have
been developed...
For learning the technics of Tsa-Lung healing, our own body and
mind must first be prepared for accumulating the giving healing
energy. The channels in our body must be opened, cleansed,
be rendered more conscious by various breathing, visualization
and meditation exercises, and the elements and humours must
become well-balanced.
The " Tumo" heat energy is to be generated, again by means of
tantras meditation, and when we become able to generate this
energy source (heat), we then can consciously release the healing
energy from certain locations.
Next, we use various types of diagnosis methods and of visualization
of the energy flows, either with sound, colours, mantras, mental
powers, crystals or else, to guide this energy to self- healing, rejuvenation
or treatment areas.
The Tsa-Lung Healing and Tibetan Medicine Introduction Seminars
include explanations of the paradigm, philosophy system and various
healing technics involved, as well as a simple but very practical
development on the relations between the Tibetan Tantras,
Vajrayana, and Thangkas paintings with the medical knowledge
required for proper healing.
Cairn Elixir Seminars have conceptual root- teachings based on theories
transmitted and developed through current practitioners by either the Nyingma,
Geluk or Bon-Po traditional lineages.
In this sense, a particular documentary attention has been brought to the more
recent research and publication of Tarab Tulku Rimpoche (Tarab Ladrang),
Namkai Norbu Rimpoche, Tenzin Wangyal Rimpoche, as well as of several
reputed Amchis and Nagpas who are practicing in Nepal, Tibet TAR / China
and/or in India/Sikkim. Links have been seeked and maintained with several
US, UK or EU-based Himalayan and Tibetan Studies Digital Archives.
Current International Affairs enfolding in the strategic region of Nepal have
lately brought their share of interesting times, bringing to the fore the urgent
need for comparative studies of Western and Tibetan political, philosophical,
psychological and scientific theories to address current misrepresentations
and to seek for more effective development approaches.
Publishing of abstracts, organization of field-studies and arranging of training
seminars want to answer to the points listed above.



Comparative research in Tsa-rLung, Celtic Healing & Energo-therapy
Click here for further details on current Research in Healing Practices!
Click here for further details on Tsa-rLung Yogas & Healing Practices!
Click here for further details on Tsa-rLung Yogis and Lamas Practices!
Click here for further details on Celtic Powerplaces Healing Practices!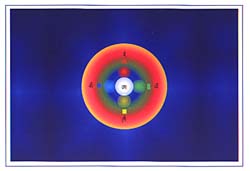 The Elements

Indigenous healing and spiritual traditions around the world are based on
an understanding of the five elements. In the Tibetan tradition, these are
known as space, air, fire, water and earth, and are understood as the
underlying energies from which the physical world, our bodies, our emotions,
and our minds arise. The elements are addressed in all nine levels of
teachings of Bön, including shamanism, tantra and Dzogchen.
"The Healing Practice of the Five Elements Goddesses" was composed
by Tenzin Wangyal Rinpoche, and is explained in his latest book,
"Healing with Form, Energy and Light: The Five Elements in
Tibetan Shamanism, Tantra, and Dzogchen".







Melong Divination

The Melong is a small metal mirror of a shining yellow color.
The Melong is used for Divination.
Ta-Pa Nagpa can see the mirror change into a dark-color, then
either smoky designs or wave-like curves in a lake, before other
manifestations and signs occur either pictures, like sequences
in a film or letters. Letters require written questions, which have
been given to the diviner.
A Nagpa Ta-Pa is a Tibetan Yogi who foretells using such
shining metal mirror called Melong to read the signs or
letters, while a Mo-Pa is a person who does divination
using a pair of dice or mala to see the numbers are both
same, in that sense both fall under the common higher
practices attainments.
Melong or Shamanic Mirror is an ancient mystical device that has
far ranging applications. Its origin dates back 5000 years to the ancient
pre-Buddhist era of the original Tibetan Bon shamans, who were the
astrologers, healers, soothsayers and magicians of the nomadic
inhabitants of the Tibetan plateau. When Buddhism came to Tibet ,
many of these practices were absorbed into it giving Tibetan Buddhism
some of its distinctive qualities. Today the melong is still used and
worn by many lamas, astrologers and shamanic healer.
Although means of telling the future were employed in Tibet, before
the advent of Buddhism, they are not regarded as an alien remnant outside
the Buddhist framework that it is occasionally convenient to call upon.
Rather, they are used within the sphere of Buddhist concepts, functioning
in accordance with Buddhist principles such as karma. There are no
references to divination in the collections of sutras, but many can be
found in the tantras.
The person who performs 'Ta' is called Tapa or Ta-thapkhen.
Most of the Ta-Pa's have a Ta-Mig. Ta literally means hair
and Mig means eye.
The divination power from a "Ta-Mig" lineage is extremely rare.
Ven. Dilgo Khyentse Rinpoche was the only realized master-scholar
who possesses all the knowledge of discovered treasure-texts teachings
and practices thoroughly.
Ta-Pa Nagpas practice long retreat, as per the instructions
of their Guru and in accordance with the 'Treasure-texts',
so that their meditation deity or root object of visualization
appear as clear as a crystal.
The appearance of 'Ta' signs are usually like a stupa, a river,
a rainbow, a highway, a flower, a vajra, a house, a bird or any
animals or anything. Then, in order to give the meaning or the
explanation for any signs that appeared in the metal mirror
(melong) Nagpas go through the "Treasure-text" for
reference and to get the answer.
This Seminar will review and explain some of the Melong practices,
more particularly in relation with Bon-Po Dzogchen and Tsa-Lung
Tertons Lineage :
Tibetan Lea metal, the special blending of eight metals;
gold, silver, copper, nickel, etc.
Health benefits of melong
Divination visions
The Tibetan geomantic energy of Sky Medicine
Personal Sky Medicine -
how to enhance your own personal Sky medicine energy
Household Sky Medicine - how to enhance Sky Medicine in your environment
How to wear your melong
How to place your melong
Healing systems using melong
Charging your melong
Protective functions of melong