EUROPEAN PARTICIPANTS REGULAR PRICES

TERMS AND CONDITIONS IN 2003-04
CAIRN Open Itineraries Options
All prices are in USD ~ with airfares included
Europe Regular Prices /
Type of Tours
Total Days
Start Date
End Date
Regular
16 days
Regular
21 days
1. Tibetan MedIcine & Psychology
16 or 21
15/07/03
open
$1,850
$2,050
2. Himalayan Shamans Healing
16 or 21
15/07/03
open
$1,850
$2,050
3. KTM Tramas & Powerplaces
16 or 21
15/07/03
open
$1,800
$2,000
4. Thangkas & Arts Therapy
16 or 21
15/01/03
open
$1,900
$2,150
5. Social/Health Services
16 or 21
15/01/03
open
$1,800
$2,000
Single (Room) Supplement
(if Group less than 5):
$150 (15 days)
$200 (21 days)
Special Request : City, Trek, Research- Investigation



open




open




open




open




open
(*): during the High-Season period, the EU-Nepal flights
may have their fares increased by some Airlines!
All prices are in USD ~ with airfares included



Our conditions include:
Accomodation (double room) & half-board, including 2 meals a day
(breakfast and dinner) and lunch-box for day-trips or sheduled excursions.
All long-distance drives (mini-bus) and air transportation (return-flights).
including drop to and pick up from airport, sightseeing tours and trekking spots
All excursions & entrance fees in seminars, monasteries or museums.
Group supervision, translation & experiential guidance.
English and/or French speaking guide,

Do not include:
Visas costs (normal visa, re-entry visa, transit or urgent visa),
Tibet or Sikkim (restricted area) travel permit, airport taxes.
Nepal trekking permit. Expenses of personal nature.
Loss of or damage to luggage or personal property.
Medical expenses, personal insurance, rescue, tips.
Meals other than specified . Alcohol and other hard drinks ...



USA PARTICIPANTS REGULAR PRICES



TERMS AND CONDITIONS IN 2003-04

USA Special Prices /
Type of Tours
Total Days
Start Date
End Date
Regular
16 days
Regular
21 days
1. Tibetan Medicine & Psychology
16 or 21
15/07/03
open
$2,900
$3,700
2. Himalayan Shamans Healing
16 or 21
15/07/03
open
$2,900
$3,700
3. KTM Termas Powerplaces
16 or 21
15/07/03
open
$2,700
$3,600
4. Thangkas & Arts Therapy
16 or 21
15/01/03
open
$2,500
$3,500
5. Social / Health Services
16 or 21
15/01/03
open
$2,700
$3,600
Special Request : City, Safari, Trek, Investigation
open
open
open
open
open
Notes:
1 = For USA flights, Includes optional extra day in Bangkok or Singapore.
2 = Regular (3 star) accommodations;
single supplement = $300 per person for 21 days; $200 for 15 days
3 = Deluxe (5 star) accommodations;
single supplement = $680 per person for 19 days; $580 for 15 days
4 = We can also offer a land/air package based on the cost from the base
cities of New York, Seatle (Spokane), Los Angeles or from other major cities.
5 = These tours are tailored for the general public as well as health professionals.
"City" = Kathmandu, "Safari" = Chitwan National Park,
"trek" = easy hike in Himalayan Mts.






Special Tibet Options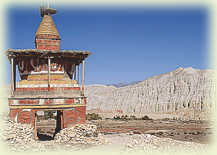 We also offer Special Tibet (fly-in/drive out)
07 to 21 days Options,
which includes various short trekking in Nepal and Tibet

21days Tibet Field-study Prices (Group~size) :
- if individual (1 to 3 pax): 2,875USD
(115,000 Fb) / per person,
- if group size 4 to 6 pax: 2,375USD
(95,000 Fb) / per person,
- if group size 6 to 10 pax: 2,250USD
(90,000Fb) / per person,
- if group 11 or above: 2,125USD
(85,000 Fb) / per person,

For Tibet , our conditions include :
* Airfare between Kathmandu and Lhasa
(at present US $ 273.00 per person).
* Arrival, departure transfers, sightseeing tours and long distance
drives by private vehicle with English speaking guide.
* Accommodation in Lhasa as mentioned and in other places at
the best available hotels.
* Full-board, Meals as mentioned.
* Entrance fee of monasteries wherever applicable.
Price does not include :
* Tibet normal visa fee (US $ 26.00 per person)
and Chinese Embassy urgent visa fee
(US $ 11.00 - 17.00 per person) if applicable.
* Meals or drinks other-than specified.
* Airport taxes (at present US $ 15.00 at Kathmandu airport) .
* Nepal re-entry visa fee and Tibet travel permit.
* Expenses of personal nature.
For more information, kindly contact us at:
<leon@sped.ucl.ac.be>
How to sign up !

How to Sign Up:
Print out and completely fill in and sign the Registration Form and send it along
with your initial deposit . We will confirm your reservation and send you back a
trip invoice for the balance due. You will also receive a packet containing information
important for you preparation: a detailed itinerary for your particular trip, medical and immunization information, travel insurance information, background on the region's
medical and cultural systems as well as a further reading list, a list of recommended
clothing and equipment, and other things to do prior to departure.
Documents:
You need a passport valid for the duration of 6 months covering your stay.
Visa for India must be taken in your country.
Although, visa for Nepal can be obtained upon arrival at Kathmandu (KTM)
airport immigration (TIA) and that for India at the Indian Embassy in KTM city,
it is more convenient to have it beforehand.
Tourist visa are presently at 30USD first arrival, valid 60days.
On the other hand you must get trekking permits and visa for Tibet in Kathmandu.
Land Costs & Air Travel Costs:
In most cases we will inform you of land & air travel options. We prefer you work
with our travel agent affiliates, who are familiar with travel in Asia. This is both
for your convenience and in most cases provides the best price.
The travel agent affiliate can also arrange trip extensions including travel to other
parts of Asia and provide you with information on purchasing medical, rapatriation
and/or trip insurance to include cancellation and interruption insurance.
Group Size:
The tour land costs are based on a minimum number of persons (5) and maximum (15).
However if the group is smaller than the minimum (5) we will still run the tour,
subject to additional charges depending the type of tour.
We can also arrange a private tour or tours tailored for specific clients,
such as anthropologist, physicians, psychologist, researcher interested in
various expertise.
Accomodations:
Accommodations are double-occupancy rooms in hotels, resorts, tea-houses,
and tents unless otherwise noted in the flier.
Trip prices reflect in part the level of accommodations (***: good - superior),
but all lodging sites have been personally checked for service and cleanliness,
the availability of on-site dinning, pleasant surrounds -- except of course the
tent sites for which areas with spectacular mountain vistas have been chosen.
If you are traveling alone and wish a roommate, we will attempt to match you
with one; if not, the payment of a single supplement is required.
Payment Schedule
| | |
| --- | --- |
| Total costs: | $(as noted in above tables, trip notes or flier) for double occupancy |
| Single supplement: | $ (additional) |
| Extra day in Bangkok: | $ (additional) |
| Initial deposit: | $500.00 (with application) |
| Second deposit: | $500.00 (due 90 days prior unless otherwise noted) |
| Final payment: | Balance of trip cost due 60 days prior to departure |
| Late bookings: | Tour reservations made 30 days or less prior to departure as subject to a surcharge of $75 to cover costs of extra communications and other surcharges passed on by the travel companies. |
It may be necessary to adjust prices up to 30 days before departure due to changes
in group size (see above) or rooming status. However your final payment
(100% of trip cost) is due 60 days prior to departure unless otherwise
stated in a flier. If late, a 2% of land costs penalty will be added.


Universities, NGOs , Education and Health Units:
We are happy to discuss and propose special focus trips with special conditions.
Cancellations and Refunds:
If you cancel before departure, money will be returned less cancellation fees (a set fee or percentage of land costs) as noted below. In addition to these penalties, any unrecoverable expenses and/or cancellation charges imposed by the airlines, travel agent affiliate, tour operators or as a result of you own travel arrangements, are the responsibility of the participants.
Cancellation Fees:

| Days prior to departure | Fee |
| --- | --- |
| 90 or more | $100 |
| 60-89 | 25% of land cost |
| 30-59 | 50% of land cost |
| 15-29 | 75% of land cost |
| 0-14 & no show | 100% of land cost |
Cancellation fees are effective from the date of receipt of a written notification
and based on departure dates stated in the fliers or trip notes.
After departure from the base city we cannot give refunds for unused: hotel rooms,
air or land travel, trekking days or other arrangements included in the land costs.
The client is responsible for all additional payments due at the time of cancellation.


Insurance:
If a trip is delayed because of weather conditions, landslides (frequent during monsoon),
cancelled or delayed flights, other transportation delays, sickness or any other situations
that we can not immediately solve, the cost of that delay is your responsibility.
We strongly recommend that you purchase a short term trip and health insurance
which includes medical rapatriation , cancellation and interruption insurance,
as discussed below.
Health Requirement !

To fully enjoy the tours planned , good physical and mental health is important. All trips
include some walking -- especially during the treks. By signing the reservation forms and including a deposit, the tour participant certifies that she/he does not have any health
condition that would create a hazard for herself/himself or other participants.
Participants may be required to furnish a physician's statement of good heath and/or
additional medical information. Once a trip has been confirmed, the regular refund
schedule is in effect should a medical problem arise prior to the departure date.

Medical insurance:
Every traveler should have a personal medical insurance which will cover you on
the entire trip and proof of such coverage may be requested. In some cases we may
also require participants to furnish a doctor's statement of good health.
Once a trip has been confirmed, medical problems will not be considered as an
exception to the cancellation terms. While we make every effort to enable you
to have a safe and enjoyable trip on schedule, the insurance will give you
added peace of mind at a reasonable cost.

Tour Operator in Nepal:
Keltic Trilogy / Cairn tours are arranged in association with Heritage Tours and Travel
(Pvt Ltd Nepal), an experienced and well established local tour company based in
Kathmandu (Kantipath). In addition, we have selected tour operators and
travel agencies duly registered in Belgium, UK and USA, which are familiar
with all aspects of the tour, and deal with efficacy with the airline bookings,
tickets, and insurance in the country of your departure.
VISAS !

Nepal :
You can get a visa easily while landing at Kathmandu International Airport (TIA),
or at your city nearest Nepalese Consulate or Embassy. Current Tourist
Visa fees at TIA/KTM are 30 USD on arrival on first entry, valid 60 Days.
Please get double Entry Visa for Nepal when you apply for Nepalese Visa
at the Consulate or Nepalese Embassy if you intend to visit India or Tibet.

India (Varanasi) :
You must take your Entry Visa to India, whether from your country's India Embassy
or from the India Embassy in KTM (Lazimpat). A short stay visa can be obtained
in 24H00 as a Transit Visa. A longer period require a few days file handling
at the Embassy (TELEX) in KTM.

Tibet from Nepal :
You may reach Tibet (Lhasa) by Fly In or by Land.
By Land, usually means Departure from Kathmandu early morning by surface,
thru Chinese Highway, toward the Friendship Bridge. Upon arrival, pass thru
the customs and Immigration Nepal and Tibet side.
Check-In to Zhangmu Hotel by late afternoon.
Overland Journey to Xegar, then Xigatse and Gyantse.
The Journey can reach Lhasa in 3 days.
In Lhasa -
Full day Sightseeing Tour of Potala Palace, Drepung and Sera Monastery.
- Guided Tour of Jokhang Temple, Barkhor Market Area and the Tibetan
Medical Center
- Departure Fly Out means: Early morning transfer to Gonggar Airport
to fly back to Kathmandu .


Tibet : WHAT THE PRICE INCLUDES
Accommodation with breakfast on twin sharing basis in the best available Hotel
en-route
Overland Journey: Zhangmu to Lhasa. In Lhasa, Holiday Inn.
Overland tour from Kathmandu to Lhasa and return Airfare Lhasa/Kathmandu.
Airport transfers to/from Hotels in Tibet and in Kathmandu, Guided Sightseeing
Tours, Entrance fees at Monasteries and Market places.

Tibet : WHAT THE PRICE DOES NOT INCLUDE
Meals (Lunch & Dinner), Airport tax in Kathmandu Rs. 1,000/- N.Rs. , and in
Gonggar Airport Yuan 100/- in Tibet.
Nepal Re-entry visa - US$ 25/- on return arrival from Tibet.


ATTENTION : Britain, Netherland, Switzerland, France, Belgium, Canada, Brazil and Cameroon Nationals have to pay extra US$ 45/- for Tibet Entry Visa. There will also be a surcharge, on Tibet Visa Fee, if client has to get the Visa within 1 or 2 days time in case of Emergency.
Surcharge - US$ 35/- for obtaining Visa same day payable to Chinese Embassy/Ktm.
US$ 15/- for obtaining Visa less than a week payable to Chinese Embassy/Ktm.
In the future we will also offer a greater variety of trips and prices with special health tours to other Asian countries such as India, Tibet, China & Thailand. However independent side trips to these countries (India, Tibet, etc.) as well as tailored tours for 6 or more persons can also be arranged for the current season.
Sign-Up Early To Avoid Disappointment:
Limited Enrollment !